Is EMPOWER Bali The Right Retreat For You?
You're looking for a yoga retreat... but something that gives you real life skills to take home;
You're feeling burnt out; exhausted and frankly, you haven't been looking after yourself.
You're looking for a lil bit of laughter, relaxation, and a bit of balance in your life.
You are a woman or identify as female. Women of all ages, life stages, shapes, and sizes are welcome;
You want to dig a little deeper into what yoga can offer you -  whether you're brand new to yoga or a seasoned mat treader! 
You want to explore adopting a 'Yoga Mindset' and find out how to make yoga work for you even when you're not on the mat so that you feel positive, energetic and 'full of beans' every single day!
You want all-inclusive food and drinks, spa and unlimited daily yoga classes, and expert EMPOWER sessions with celebrity yoga teacher and Bali veteran, Cheryl MacDonald.
This boutique retreat will have limited numbers so that each and every woman can luxuriate in oodles of personal attention.
The sessions will be led by YogaBellies founder and celebrity yoga teacher, Cheryl MacDonald at this once-in-a-lifetime women's yoga retreat. 
Enjoy beautiful, exotic surroundings and take positive steps towards embracing a new you, through yoga for real life.
Unplug, Relax and Enjoy!
A Yoga Retreat Where You Can Have Fun
Hey there lady!
Thank you for checking out my EMPOWER Bali Retreat! The first thing people usually ask me about joining one of my retreats is: What actually happens on a retreat? 
I've been on tons of retreats and they all have very different vibes, depending on where it is, who's hosting it and why you're there. I can only tell you what to expect from a retreat with me.
I'm all about balance: Yin and Yang, light and dark, rock and recovery. So when I host a retreat, you're going to have a whole lot of fun!
I'm inviting you to unplug from the demands of modern life and tune into yourself through yoga. In this EMPOWER women-only yoga retreat, you'll enjoy luxurious accommodation, all-organic food and drinks, spa treatments, exclusive EMPOWER sessions with me and unlimited yoga classes - and a whole lot more. Whether you need a break from work or just want to recharge with some well-deserved R&R, this retreat is for you!
It's easy to get out of practice with yoga and lose touch with your body's natural instincts. 
That's why I've created this retreat -  for women that want to retune to their natural energy levels, recover from stress, and reconnect to their authentic selves. Take this retreat as the opportunity to get on the yoga mat, make real, sustainable changes to your life but also have a ridiculous amount of fun, self-discovery and adventures every day! 
We work hard and play hard at YogaBellies - I'll show you how to adapt your yoga practice and lifestyle throughout the month by tuning into your natural energy levels. 
Find out which 'goddess' life stage you're in (maiden, mother, enchantress, or crone) and how to channel that energy into living your best life. Then we'll hit the beach for some well-deserved Margheritas - or sparkling water!
Come and join me for the EMPOWER Women Only Yoga Retreat and find out all about feeling awesome in your own body and living your best life!
I honestly believe that laughter is genuinely the best medicine and if you can allow yourself to find release in a multitude of ways, then you're on the right path. I want you to enjoy your retreat! To laugh and have a ball - and that doesn't always mean a serene and silent meditation sesh.
Having a Cosmopolitan at the pool does not a bad Yogini make.
 Surfing at the crack of dawn and then laying on the beach all day tanning, doesn't mean you're a slacker.
Firing around Bali on a scooter and exploring little boutiques and cafes and art galleries is great for the soul!
A gorgeous meal and socializing in the evening: All part of the balancing act.
I think the main thing to know about my retreats, is that you can make them your own. Everything you need for some serious relaxation and personal transformation is there for you, but I absolutely encourage you to find out what YOU personally need  - and then heap on more of that.
Everything I teach can be applied to your life when you go home and I practice what I preach. 
You can love yoga, and meditation and experience inner calm and also have great fun and lots of laughter: That's balance.
I also don't believe that starving yourself for a week, putting yourself through an intense and punishing workout or resisting absolutely everything you like to eat or drink - for a week - is going to do anyone any long-term good.
I believe that learning real yoga life skills and practicing things on retreat that (surprise!) you can and WILL be able to use at home is much more important.
I'll hope you'll join us for a week of yoga, sunshine, and personal empowerment!
Cheryl, YogaBellies Founder and yoga-loving maniac xx
Want to know more about our Bali Retreat?
Jost pop your email below and we'll send you over all the details.
Meet Your Retreat Host
Cheryl MacDonald, E-RYT 500
"I understand why women need yoga throughout life - and that it can benefit us off the yoga mat as much as it can in class. Everything I teach I use in my own life - and it's the difference between living my best life and being a lump of wood. 
I want you to STOP trying to twist yourself into knots (literally,) starving yourself or attempting yoga practices originally created for men!  
Let me show you how you can enjoy the right yoga practice - even if you're pregnant or postnatal or in menopause - feel great about yourself, have tons of energy and a body you love ... based on working with thousands of women over the past 15 years. 
I've practiced and I've taught women at every life stage - in fact,  over 100,000 women in the UK alone,  have come along to YogaBellies classes to balance their hormones; relieve stress; find their calm place for birth; chill with baby afterward and battle the symptoms of menopause. I've also personally trained and coached hundreds of YogaBellies teachers in feminine yoga and wellness practices that have made YogaBellies a global phenomenon. 
Yoga is as important to women at 14 as it is 99, and over my 25 years of personal yoga practice, I have developed The YogaBellies Sadhana, to give women exactly what they need in a safe and therapeutic practice.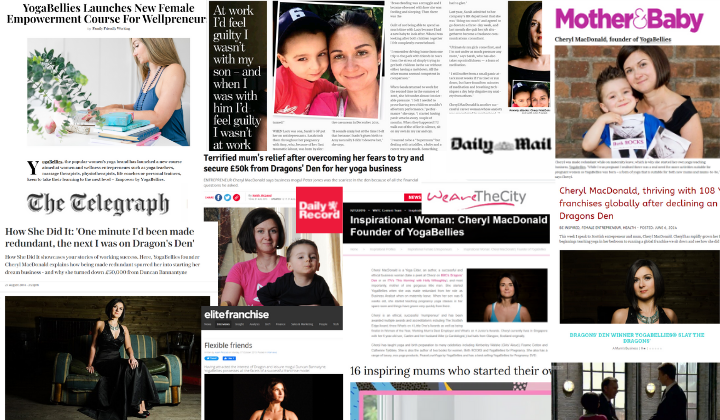 You may also have seen me featured in:
The Huffington Post - talking about my yoga journey and YogaBellies® beginnings
As a winner of BBC Dragon's Den (watch us in the video below!) - the Dragon's loved the concept of YogaBellies®
Appeared on ITV's This Morning - teaching yoga to women and children at various life stages
All of the magazines, TV channels and publications you can see on this page, talking about yoga for women throughout life
Been personal yoga teacher to celebrities such as Kimberley Walsh (Girls Aloud), Fearne Cotton and Catherine Tyldsley (check out some of the featured press below)
YogaBellies Instructors
Also Joining You:
Senior YogaBellies Teacher

Ellie Higgins
My name is Ellie and I am a senior Yogabellies teacher based in the sunshine in Dubai. I started my yogabellies journey in Scotland where I built up a successful yoga company in the Southside of Glasgow teaching everything from bump to birth and beyond. I started to bring about a sense of community to our local area. Everyone now has their 'Yogabellies group of friends' there. This company is still running and I have a small team of certified Yogabellies teachers with me and we are growing! I moved back to Dubai after 6 years in Scotland and took my classes with me and now I teach them in the sun. I love teaching classes to women and not just to perfect their yoga moves but to educate them about birth, assist them on their motherhood journey and to help them see other sides of yoga and how it can help them not just physically but mentally too. I have a love of yoga nidra to keep calm and I teach Hypnobirthing and meditation too. I own and run a company in Dubai called The Om Moms Club and my classes are full of yogabellies, chat, awesome soundtracks and aromatherapy. It is the full package! A little about me, I am a mum to a little yogi, skateboarding boy. A wife to a sometimes busy husband who supports me on my dream of teaching yoga and achieving the work life balance for our family. I absolutely love marmite, olives and Asian food and sometimes mixed together! I have an addiction to travel (I spent almost 3 years exploring the world and then 12 years as a flight attendant) and am excited to explore even more. I love swimming pools, sandy beaches, palm trees and the sea. I tend to be outdoors as much as possible and also take my yoga practice outside whenever I can as yoga under the sun or the stars is the best.
Email
What Can I Expect from the EMPOWER Bali Retreat?
As much or as little as you like...
Join the EMPOWER Bali Women Only Yoga Retreat in November 2022
The EMPOWER Women's Yoga Retreat is a fabulous opportunity for women to come together and learn how to live their best lives. I'll help you tune into your natural energy levels, and give you strategies for adapting your lifestyle and yoga practice throughout the month so that you feel positive, energetic, and adventurous every day.
Boost your happiness with our exclusive retreat for women.
Who doesn't need more happiness in their life? It's time to treat yourself to a week of self-care, laughter, and all-inclusive food and drinks. We're taking you on an adventure to beautiful Bali! With daily unlimited yoga classes, EMPOWER sessions with Cheryl and the use of the gorgeous Udara Spa, you'll feel refreshed and ready to take on the world again.
Tune into your natural energy levels
I'll show you how to adapt your yoga practice and lifestyle throughout the month by tuning into your natural energy levels. Find out which 'goddess' stage you're in and how to channel that awesome energy into living your best life.
Feel empowered with a yoga retreat.
Get away from it all and just let go. The EMPOWER yoga retreat is the perfect way to recharge, reset your mind, and get back on track with what matters most in your life. Find out more about our Women Only Yoga Retreat today!
What happens on an average day on retreat?


At the EMPOWER Bali® Retreat, your day is your own. 
I will be hosting fun, interactive, daily EMPOWER workshops just for the ladies. We'll be focusing on your physical and emotional wellbeing and empowering you to use all of the YogaBellies tools you need to live your best life when you go home too!
You have access to unlimited daily yoga sessions, informal and fun women's circles and feminine yoga and EMPOWER workshops, and use of the deluxe spa, as well as three healthy meals per day, are included in your package. You can pick and choose what YOU want to do: It's your retreat! 
You're also gonna get a goody bag to take home, access to my online 21-day Yoga Life Reset and a nutrition guide and recipes to take home too!
You can enjoy the gorgeous surroundings of the retreat - we're right on the beach too if you want to try some surfing or just chillaxing on the sand.  
You will have lots of free time during the day and in the evenings to explore, relax or further your journey. 
As part of your package, you will also have a one-hour Balinese Massage and unlimited use of the gorgeous spa.
Where Is The Retreat to Be Hosted?
Undara Bali, Canggu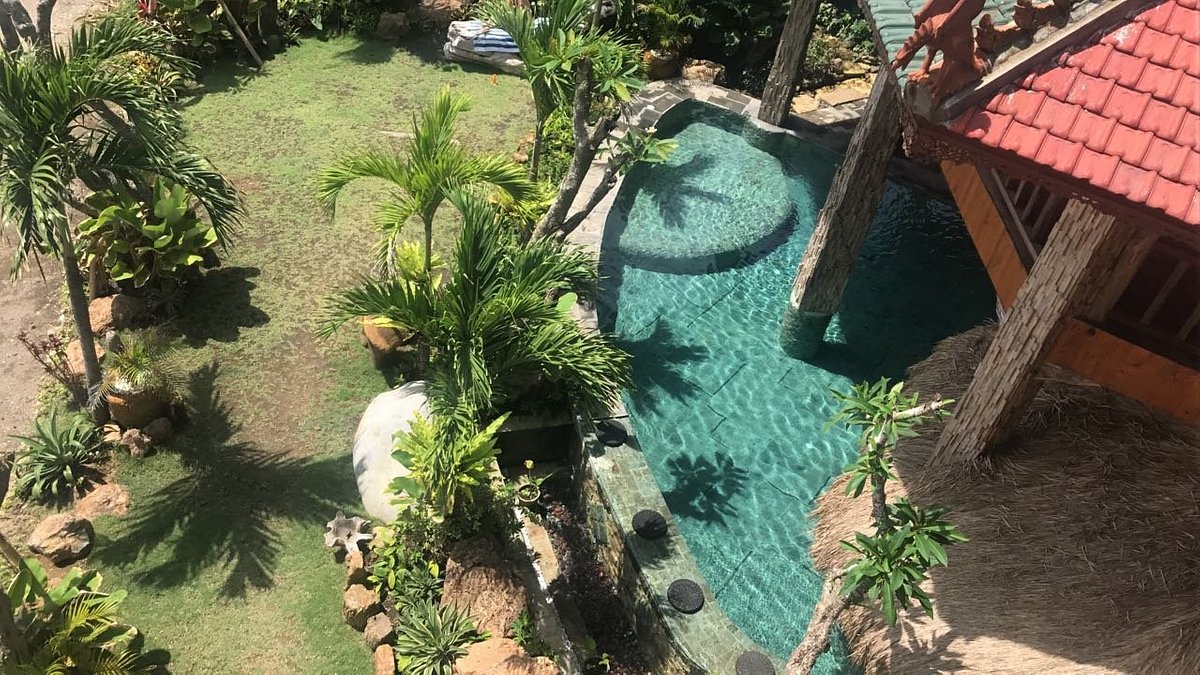 During this retreat, you will stay in a private or twin room. All rooms with ensuite bathroom, air-conditioner, and Wi-Fi. Udara Bali is an integrated healing yoga resort offering a wellness and detox lifestyle to alleviate the stress of modern living. Nestled between the Indian ocean, rice fields and surrounded by ancient temples, Udara sets the mood for a relaxing and authentic Bali holiday.
Featuring four beautiful yoga shalas (three with ocean view and one overlooking the ancient temples) and a beautiful spa with water healing pool, Finnish sauna, herbal steam room, hot Jacuzzi, and ice water plunge as well as a meditation cave, Udara is an ideal destination for women seeking healing and rejuvenation. The traditional Javanese wood Joglos with outstanding personalized service will instantly have you feel at home. At Udara Bali, they are deeply committed to sustainability in all aspects of their resort.
This is why constantly strive to improve on the three pillars of sustainability: environment, economy, and society.
The Yoga Shala
At Udara Bali, they have some of the most unique and beautiful yoga shalas in all of Asia. Yoga is about finding peace and a place inside yourself. And the physical place where your practice is immensely beneficial in supporting you in this process. 
Udara Bali Yoga Detox Spa has five beautiful shalas, which each have their own unique features, design, and energy. The names of yoga shalas honor important gods of Balinese Hinduism and pay tribute to the local culture of this island. For the various practices on your daily schedule, all of the yoga shalas are equipped with high-quality yoga mats, bolsters, blocks, belts, and aerial silks.
I'll be leading you through exclusive EMPOWER workshops daily as part of this retreat. With the focus on yoga, wellness and personal empowerment, I promise that this will be a life-transforming retreat! In addition to this, you will also get unlimited access to the daily Udara Yoga schedule with 5-6 classes per day in various styles (Hatha, Aerial, Vinyasa, and much more). 
You have the opportunity to book daily Spa treatments (additional) and access to the unique Spa facilities with hot & cold pools, Sauna, Steam room, and jacuzzi that will help you to relax and activate all your senses. One free 60-minute massage is also included in your package.
All meals at Udara's Organic Ocean Restaurant are included with a focus on healthy, fresh and organic vegan, vegetarian or seafood dishes.
You'll have the opportunity to meet incredible women from all over the world, connecting at our community tables and events. 
Enjoy additional weekly events such as Cacao & Kirtan Ceremony, Breathing & Sound Healing, Yin Yoga & Sound Healing or Relaxing Sound Float are included in your retreat package and will help you make your stay unforgettable.
Daily stay in a comfort room for 6 nights/7 days (twin or single rooms) (Check-in 2 pm, Check-out 12 pm)
Free welcome drink and fruit upon arrival
Free unlimited mineral water
Free Daily breakfast, lunch, and dinner
Free 1 x Balinese Massage
Free Wi-Fi in the resort area
Daily exclusive EMPOWER women's circles and workshops, hosted by YogaBellies founder Cheryl MacDonald
Unlimited daily Yoga, Meditation and Healing Classes up to 6 classes every day (scheduled by Udara Bali)
Free use of Udara's Facilities including the Swimming pool with pool bar access, Warm water Watsu Pool, Finnish Sauna, Steam Room, Jacuzzi, cold plunge pool, Meditation Cave, Garden area with bean bags & sunbed area on the beach.
Transfers to and from Bali Denpassar airport
A free copy of Cheryl's best-selling Yoga for Life Journal
Immediate access to Cheryl's 21-Day Yoga Life Reset programme online;
A free EMPOWER goodie bag, collated by Cheryl to enhance your journey.
What's Not Included?
Flights to and from Bali
Alcoholic drinks (if you choose to drink)
You're going to get IMMEDIATE ACCESS  to my 21-Day Yoga Life Reset which you can complete any time you like! (worth GBP 79)
A downloadable copy of my best-selling Yoga for Life Journal so you can start tracking how you feel throughout the month (worth GBP 12.99)
Access to YogaBellies LUNAR Kit to help you align your menstrual cycle throughout the month (worth GBP 49)
Immediate access to our EMPOWER Bali Retreat Community and Resources online - you'll find ALL of your bonuses in here and details on everything you need to know to prepare for your trip - as well as a forum where you can meet friends from the retreat before you even go!
Over GBP 350 worth of bonuses are available immediately on booking!
Meals at Udara
Eating at Organic Ocean
Throughout the retreat, all of your meals are included: breakfast, lunch, dinner, afternoon tea and snacks and unlimited water.
Organic Ocean is about making delicious food and caring about you, the Balinese community and mother earth! 
Balinese Hindu believe in reincarnation and karma. Your body is the temple of your soul. So nourish it with good health, happy thoughts and positive energy. If you get up early in the morning (we mean really early!!!) you might even see the village fishermen going out to sea on their boats to catch different kinds of seafood, as they have for many generations. 
As part of their environmental commitment, Udara tries to make their food as sustainable as possible. The seafood comes from the Seseh fishermen's fresh catch of the day. And all of the fruits and veggies come directly from the organic farm of Bedugul hills.
The seafood, vegetarian and vegan options are all both healthy and delicious. Organic Ocean prepares them freshly each day and do not use any additives, preservatives or colourings. 
The menu is inspired by the Mediterranean, Middle Eastern, Japanese and of course Balinese dishes, for everyone to find their favourite. If you have any issues with food allergies or ingredients you dislike, please let us know! We will try to accommodate you as best as possible. 
Each day Cheryl will take you through an exclusive EMPOWER workshop, focusing on integrating a yoga lifestyle, embracing feminine yoga practices, and living your soul purpose.
The full moon in November is during our retreat so there will be some seriously positive high energy vibes! :) 
You can view the EMPOWER retreat workshops and an example yoga class schedule below. 
Yoga classes are available 7 days a week. As part of the retreat, you can attend as many of these classes each day as you wish.
In addition to unlimited daily yoga classes, Cheryl will host (at different times each day to allow you to mix it up!,) her incredible EMPOWER workshops. Sessions will be held throughout the day and you can pick and choose which to attend. These include:
What is EMPOWERment for you?
Embracing a Yoga Lifestyle for Your Best Year Ever!
Adapting Your Yoga Practice Throughout the Month for Optimal Energy
Embracing the Full Moon Ceremony
BREATHE Basics: Using Yogic Breathing for Everyday Life

Can I share a room with someone?

Yes, we have the choice of twin or single rooms. Even if you are travelling alone, you still have the option to share a twin room with another attendee.

Can I pay in Installments?

If you book before the end of May 2022, you can choose to pay in 4 monthly payments. Please note that early bird prices do not apply to installments.

What Is Your Refund Policy?

Payment Procedure: In order to confirm your booking, the full amount or the first of 4 installments is due on registration. The full payment is due at least 30 days before arrival. Cancellation Policy: Cancellations must be made in written to cheryl@yogabellies.com at least 60 days prior to the check-in date in order to avoid any cancellation fees. Cancellations requested less than 60 days before check-in will receive no refund on bookings. Cancellations at any time before this will receive 50% refund. In the event YogaBellies EMPOWER Retreat cancels or postpones the retreat you booked, you can receive a credit voucher for your booking and services with no expiration date or a 100% refund. No show will be charged based on the full length of stay (100% of the accommodation charges).

Are Flights or Airport Transfers Included?

Flights and transport to Bali are not included in the cost. We can organize a driver to collect and return you to Bali Denpasar airport.

Which Airport Do I Fly Into?

Bali, Denpasar. The retreat is in Seseh, not far from the airport at all and we will arrange for someone to collect you.

When is the retreat?

It starts Sunday 6th of November and finishes on Saturday the 12th.
Need More Info?
No problem. We'll send it all over immediately